$100M+ Exit – Minnie Ingersoll, Shift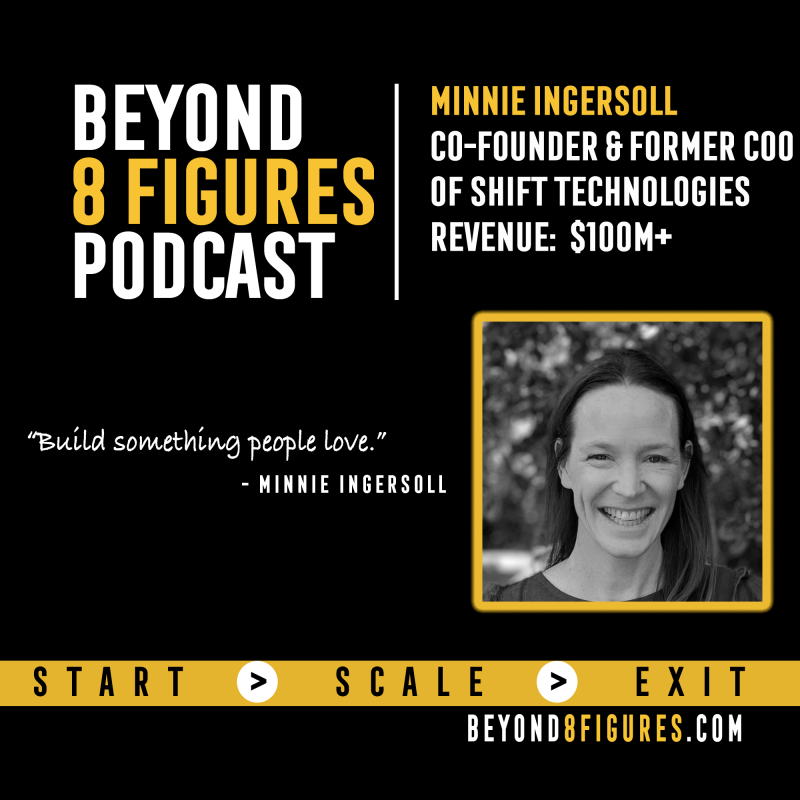 Minnie Ingersoll Exited Shift for $100M+
Best Advice I Ever Received:
Show up, tell the truth, hope for the best
Best Advice I'd Give To Someone Who Wants To Build A $10m+ Business:
Build something people love
In this episode, Steve, Mary, Richard, and Minnie Ingersoll discuss:
The process of raising money as your business grows 

The value of a strong team  

The future of entrepreneurship and whether working toward a billion-dollar status is worth it 

Where the next big opportunities lie   
Key Takeaways:
Show up, tell the truth, hope for the best

   

People, product, and market- people will invest in the person if you show them your worth the investment 

Venture capital when used in the right way can be extremely beneficial for society as a whole 

Having a product and customers are vital for investors 
"When there aren't spreadsheets with years of history to look at, people are looking at people, product, and market."
—
Minnie Ingersoll  
About Minnie Ingersoll: Partner at TenOneTen actively investing in great teams. We are operators who invest early (pre-seed, seed, seed+) and love working with technical founders who are passionate about what they're building.  
Prior to TenOneTen, I was founder and COO at Shift, an online marketplace disrupting the $1.2T car industry by providing a better experience for buying and selling used cars. Grew to a $100M+ business and a recent Series D.  
Started my career as an early product manager at Google. In my spare time, I volunteer for city government, surf baby waves, and raise baby people.  
Connect with Minnie Ingersoll:  
Twitter: himinnie   
Website: tenoneten.net    
Email: minnie@tenoneten.net    
Show: la-venture 
LinkedIn: mingersoll 
Connect with Steve Olsher:  
Website:  http://Beyond8Figures.com  
Twitter:  https://twitter.com/beyond8figures   
LinkedIn:  https://www.linkedin.com/in/steveolsher  
Facebook: https://www.facebook.com/Beyond8Figures  
Instagram: https://www.instagram.com/mr._bold/  
YouTube: https://www.youtube.com/user/whatisyourwhat  
Pinterest: https://www.pinterest.com/steveolsher/  
Google Plus: https://plus.google.com/u/1/+SteveOlsher  
Email: feedback@beyond8figures.com
Podcast: Play in new window | Download
Subscribe: Apple Podcasts | Android | Google Podcasts | Stitcher | Spotify | RSS