$10M+ in annual revenue- Sabri Suby, King Kong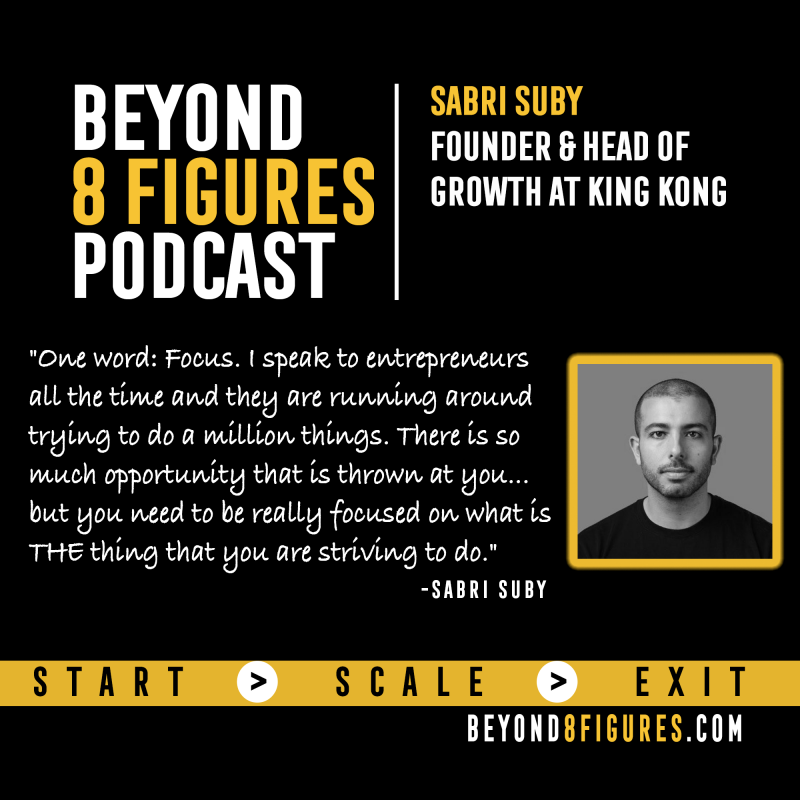 From a bedroom to a successful business, Sabri Suby shares the journey of scaling a marketing business from the ground up.
In this episode, Steve, Mary, Richard, and Sabri discuss:
How marketing can completely change a business' revenue, especially with small businesses.
How to build an outstanding and revolutionary marketing business from the ground up.
Scaling up a business to promote the growth needed to become successful.
Dealing with turnover in growing businesses and how that impacts scaling.
Key Takeaways:
Hire slow and fire fast. If you've got aspirations to build a big company, you are not going to be able to do it by yourself.
One word – Focus. There is so much opportunity that is thrown at you every day as a business owner but you need to be really focused on what is THE thing that you are striving to do.
Don't ever settle, let the dream you envision be reality.
How you market your business will change your overall impact with your client base.
Inspiration and desperation often come hand in hand, and help a business grow.
"You see what is possible." — Sabri Suby
About Sabri Suby: Sabri Suby – the story of a salesman
Suby's digital marketing agency King Kong has more than doubled in clients and revenue in the past 12 month period. In October 2017 it had a team of 33, and this month King Kong is a team of 50, with the expectation of having more than 100 staff within the next 24 months as a result of sustained business growth. With a healthy influx of international clients, King Kong also has plans to expand with overseas offices. It is no surprise that King Kong has been named Australia's fastest growing digital marketing agency (AFR Fast Starter's List).
It's massively disrupting the digital marketing space by killing vanity metrics, using true ROI and only charging for success.
Started in 2014 out of his bedroom, completely bootstrapped, King Kong has become one of the biggest business success stories in Australia with the agency being name fastest growing digital agency in AFR Fast Starters List 2017 and Best IT Small Business in the Australian Business Champions Awards. He's also racked up $4000 million in revenue for clients and his own business since launch.
From Suby's long line of success in sales and marketing, particularly digital marketing, it's not hard to understand how King Kong found success. The agency has become a company of over 30 employees operating out of smart offices in South Yarra, Melbourne, working with major clients nationally and internationally, including Raine & Horne, Slater + Gordon, Aussie Home Loans, The Good Guys, the Sydney Swans and First National among many others. It offers services including SEO, CRO, PPC, Facebook Advertising, web design and landing pages.
Suby got the taste for sales and marketing in his first job in Byron Bay when he was just 17. Here, despite a slightly slow start, his manager's belief in him and his dedication to mastering his work saw him quickly become an expert cold-caller who actually enjoyed the art and soon smashed all the sales record of the company.
Young and energetic, Suby took his skills to London where he applied the same dedication to what he did, and again smashed all the sales records for the companies he worked for. "It took me about a week, I didn't make any sales in week one," Suby explained. "But once I landed my first one I was on a roll. Within a month I had overtaken the best sales people in the team."
The experience of being super successful at his work in both Australia and the UK cemented sales and marketing as the profession of choice for Suby. He came back to Australia, now based in Melbourne, and started university at RMIT while also working at an agency selling Google AdWords. But it was one client in particular that made the young sales and marketing consultant stop and think.
"A client called and said to me, 'I don't want to be in the right-hand column with the ads, I want to be in the left-hand column with the organic search results. Can you do that?'. Being a salesman, I said 'yes', thinking that I'll figure it out later. I made up a cost of $500 per month. I got off the phone and told my business leader. He just said I had to figure out how to do that if I just sold it."
Suby figured it out, and it worked. It led him to realise that he could do this for himself and have a great chance at success. He built a business plan and took it to his current employer with the idea of a joint partnership. While the reception was frosty at first, they soon joined the party and The Click Factory was born.
Operating out of his lounge room, The Click Factory soon had 50 clients after just a few months. Suby had gone back to cold calling and bringing in immense amounts of revenue. "I could always bring in the revenue, that was never a problem. It got to a point where I was running that business for a year and a half. I got it up to a million dollars in revenue but I was young and still wanted to travel."
So after just a year and a half, Suby sold his part of the company having seen significant growth. He travelled, founded other businesses, sold them, and repeated. He had a taste of failure along the way as well with Gametime—a marketplace business similar to Groupon but using the AFL as its backbone. While he managed to set up meetings with many of the clubs' senior executives, signed on the biggest club, Collingwood, and secured $250,000 in funding, the business ultimately didn't work out.
"There are a lot of lessons you learn when you run a business into the ground. The pathway to success is usually paved with a certain amount of failure," Suby said. "You learn your skill-set and what you are not good at. You learn about team-building, hiring and firing. I learned commercial acumen. It was very hard for me to close deals with big companies like the Sydney Swans. I was 24 at the time and doing deals with huge corporations, dealing with big time lawyers and still trying to persuade people and get deals done."
Instead of letting it get to him, Suby took the lessons and moved on. He had spent a lot of time trying to find an agency to do what King Kong does for businesses, but they were either too expensive or hid behind vanity metrics. Suby saw the gap in the market and reacted. He quickly set to work at home and set himself KPIs to get the business up to speed as soon as possible. Four years on and the commitment is well and truly paying off.
He's just launched a course called Consulting Empire in partnership with Foundr magazine to teach other practitioners how to take their skill or craft and turn it into a thriving business, just like he did. And in later this year Suby will release his first book. But he's not stopping here.
Connect with Sabri Suby:
Twitter: @FreeKingKong
Facebook: @kingkongco
Instagram: @kingkong
Youtube: @KingKong
Website: kingkong.com.au
Connect with Steve Olsher:
Website:  http://Beyond8Figures.com
Twitter:  https://twitter.com/beyond8figures
LinkedIn:  https://www.linkedin.com/in/steveolsher
Facebook: https://www.facebook.com/Beyond8Figures
Instagram: https://www.instagram.com/mr._bold/
YouTube: https://www.youtube.com/user/whatisyourwhat
Pinterest: https://www.pinterest.com/steveolsher/
Google Plus: https://plus.google.com/u/1/+SteveOlsher
Email: feedback@beyond8figures.com
Podcast: Play in new window | Download
Subscribe: Apple Podcasts | Android | Google Podcasts | Stitcher | Spotify | RSS