$140M in Revenue – Dave Woodward, ClickFunnels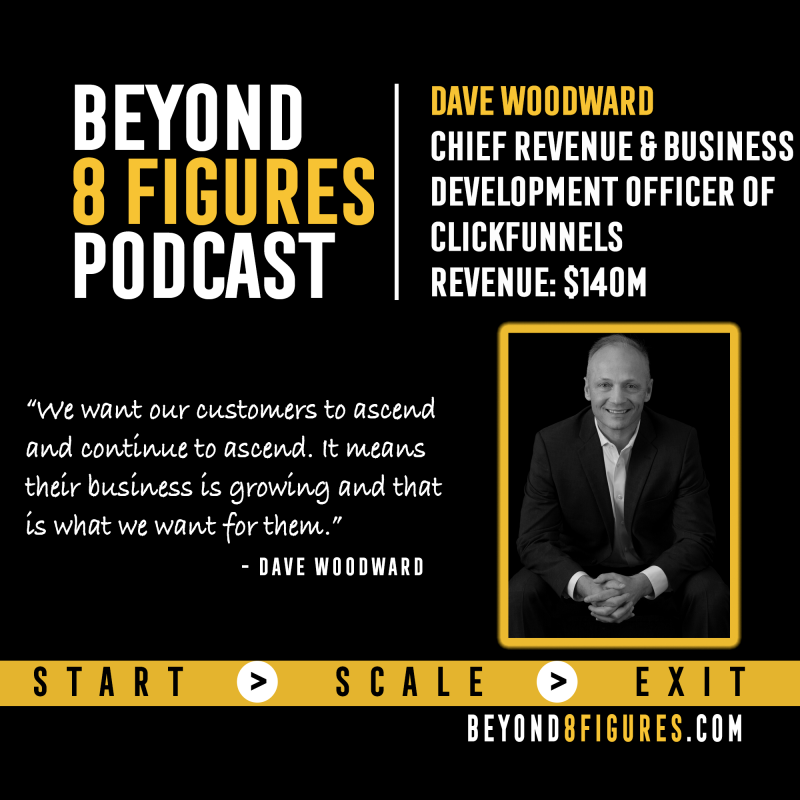 Dave Woodward grew ClickFunnels to a $140M company
In this episode, Steve, Mary, Richard, and Dave Woodward discuss:
How the founders, Russell Brunson and Todd Dickerson, created ClickFunnels  

Marketing strategies for a large company 

Best strategies for finding and signing users 

Building the community of ClickFunnels 
Key Takeaways:
The greatest way to decrease churn is making sure customers have success quickly 

Webinars were key in signing users the first year 

Acquisitions are the next step in expanding as the business grows 

Making the customer feel like you are speaking directly to them and connected is how you create a community 
"We want our customers to ascend and continue to ascend. It means their business is growing and that is what we want for them."
— Dave Woodward
About Dave Woodward:

Dave Woodward is the Chief Revenue and Business Development Officer of ClickFunnels and host of the weekly ClickFunnels Podcast, ClickFunnels Radio. ClickFunnels is a SaaS software that lets people design and create sales pages, landing pages, order forms, and membership sites. Through this software, people can manage their entire sales and marketing funnel, and it also helps people with anything to buy or sell to do so in the most effective and efficient way. For more information, visit www.ClickFunnels.com.  
   
Connect with Dave Woodward:
Facebook:  dave.woodward.3954   
Website: clickfunnels.com    
Email: dave@clickfunnels.com 
Instagram: daveswoodward/ 

Connect with Steve Olsher:
Website:  http://Beyond8Figures.com  
Twitter:  https://twitter.com/beyond8figures   
LinkedIn:  https://www.linkedin.com/in/steveolsher  
Facebook: https://www.facebook.com/Beyond8Figures  
Instagram: https://www.instagram.com/mr._bold/  
YouTube: https://www.youtube.com/user/whatisyourwhat  
Pinterest: https://www.pinterest.com/steveolsher/  
Google Plus: https://plus.google.com/u/1/+SteveOlsher  
Email: feedback@beyond8figures.com
Podcast: Play in new window | Download
Subscribe: Apple Podcasts | Android | Google Podcasts | Stitcher | Spotify | RSS