$18M Exit, Chris Guerriero, Executive Fitness Club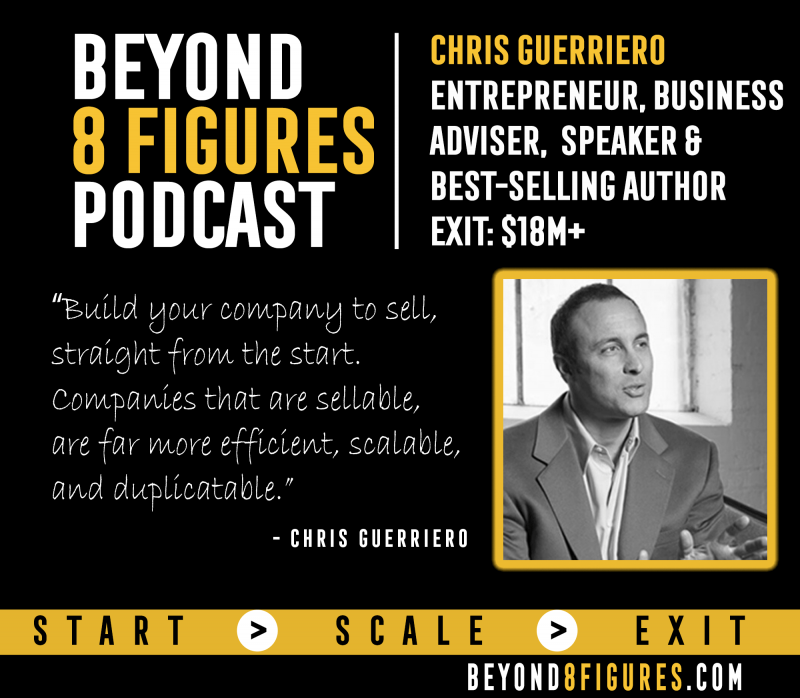 Chris Guerriero, Exited Executive Fitness Club for $18M+
Chris Guerriero is an entrepreneur, business advisor, speaker, and best selling author.
Business owners around the world have come to rely upon Chris when they require an edge to breakthrough growth obstacles.
Expertise and proven track record of success differentiate Chris. He's grown teams, culture, and business systems that yield multi-million-dollar companies. During his career devoted to health, wellness, and business growth, Chris has built four 8-figure businesses of his own and helped generate millions in revenue for his clients. He has served as a business advisor, mentor, board member and investor for businesses and executives who desire additional business growth.
Chris was featured in Entrepreneur as one of the top entrepreneurs of the time and his companies have been featured in print, video, and on live stages domestically and around the globe. Chris is focused on building culture, systems, and teams that scale smart and galvanize growth.
In this episode, Steve, Mary, Richard, and Chris discuss:
When do you stop saying Happy New Year?
First health club sold for just under $18M
It's hard to build a business with all independent contractors
Choose key metrics carefully
Best Advice I Ever Received:
Seek wise counsel so you can fast pace your growth and don't have to learn lessons the hard way.
Best Advice I'd Give To Someone Who Wants To Build A $10m+ Business:
Build your company to sell, straight from the start. Companies that are sellable, are far more efficient, scalable, and duplicatable.
Connect with Chris:  
Twitter: @ChrisGuerriero
Website:  chrisguerriero.com,  360review.com, buildtogroreview.com
Email: emily@chrisguerriero.com

YouTube: youtube.com/channel/UC08IA_CVgpA2dwTNB3mnw9A
LinkedIn: chrisguerriero
Instagram: https://www.instagram.com/chrisguerriero_/  

Connect with Steve Olsher:  
Website:  http://Beyond8Figures.com  
Twitter:  https://twitter.com/beyond8figures   
LinkedIn:  https://www.linkedin.com/in/steveolsher  
Facebook: https://www.facebook.com/Beyond8Figures  
Instagram: https://www.instagram.com/steveolsher

YouTube: https://www.youtube.com/user/whatisyourwhat  
Pinterest: https://www.pinterest.com/steveolsher/  
Google Plus: https://plus.google.com/u/1/+SteveOlsher  
Email: feedback@beyond8figures.com
Podcast: Play in new window | Download
Subscribe: Apple Podcasts | Android | Google Podcasts | Stitcher | Spotify | RSS