$10+ Million in Annual Revenue – Rod Khleif, Lifetime Cash Flow Podcast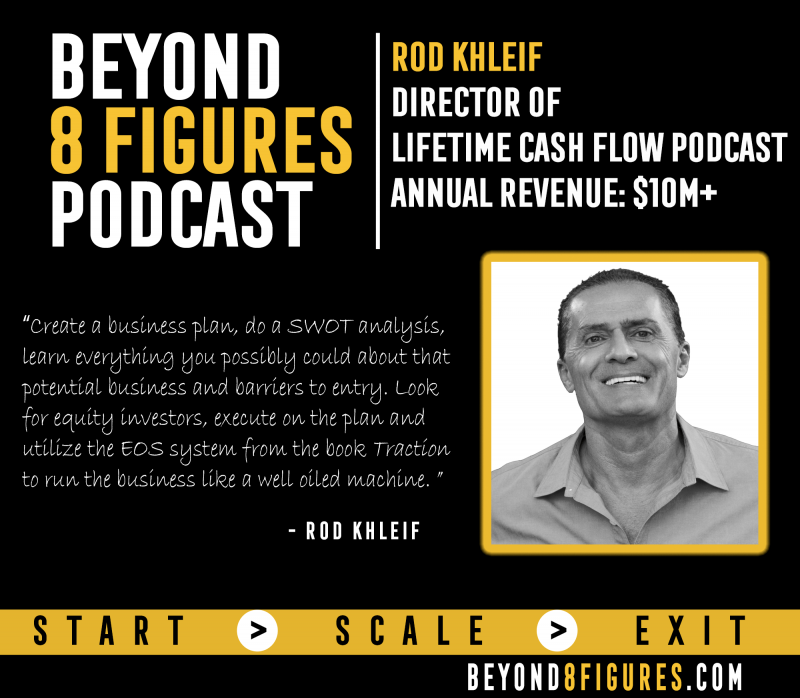 Rod Khleif, Director of Lifetime Cash Flow Podcast, with Annual Revenue of $10M+

Rod Khleif is a multiple business owner and philanthropist who is passionate about entrepreneurship and giving back. As one of the country's top business, real estate, and peak performance luminaries, Rod has owned over 2,000 homes and apartment buildings, building over 22 businesses in his 40 year career, several which have been worth tens of millions of dollars.
Soaring from humble beginnings as a young, impoverished Dutch immigrant to incredible success, Rod's experience involves both remarkable triumphs and spectacular failures, which he affectionately calls "Seminars". He explains the mindset required to recover from losing $50 million in the crash of 2008 to the success he enjoys today. Rod can speak to the psychology of success, mindset for taking action, and any business or real estate topic in great depth, contributing firsthand knowledge and skills to the discussion.
Rod also founded the Tiny Hands Foundation, which has benefited more than 75,000 community children in need.
In this episode, Steve, Mary, Richard, and Rod discuss:
His rags-to-riches-to-rags-to-riches story
Living on the Compound
He lost everything in 2008 – $50 Million
Spectacular Failures: Seminars
Due diligence checklist for multi-family unit
Best Advice I Ever Received:
From an old man in Denver that owned lots of free and clear apartments: To buy real estate and let other people pay if off. When free and clear it would equate to "buckets of money"
Best Advice I'd Give To Someone Who Wants To Build A $10m+ Business:
Create a business plan, do a SWOT analysis, learn everything you possibly could about that potential business and barriers to entry. Look for equity investors, execute on the plan and utilize the EOS system from the book Traction to run the business like a well oiled machine.
Connect with Rod:  
Twitter: @RodKhleif
Website: http://Rodkhleif.com , https://rodsbootcamp.com , https://www.tinyhandsfoundation.org/

Email: rod@rodkhleif.com

Facebook: facebook.com/rodkhleifofficial
LinkedIn: rodkhleif
Instagram: Rod_Khleif
Connect with Steve Olsher:  
Website:  http://Beyond8Figures.com  
Twitter:  https://twitter.com/beyond8figures   
LinkedIn:  https://www.linkedin.com/in/steveolsher  
Facebook: https://www.facebook.com/Beyond8Figures  
Instagram: https://www.instagram.com/steveolsher

YouTube: https://www.youtube.com/user/whatisyourwhat  
Pinterest: https://www.pinterest.com/steveolsher/  
Google Plus: https://plus.google.com/u/1/+SteveOlsher  
Email: feedback@beyond8figures.com
Podcast: Play in new window | Download
Subscribe: Apple Podcasts | Android | Google Podcasts | Stitcher | Spotify | RSS