10 Amazing Business-Themed Cocktails For Your Entrepreneurial Journey
Who could have thought that our readers and listeners love business-themed cocktails? Yet here we are, adding another 5 cocktails to our entrepreneurial happy hour menu and inviting you to take a break and enjoy the holiday season with a well-deserved drink in hand.
Don't worry; your business can survive a couple of days without you (unless you are selling Santa hats, then, by all means, keep a hand on the pulse). So without any further ado, we present to you 10 business-themed holiday cocktails, cheers!
Updated: December 2022.
With the holiday season upon us, let's talk about celebratory cocktails. Sharing some festive spirit (pun absolutely intended) along the way.
As hardworking entrepreneurs, we should take a moment and reflect on our achievements throughout the year. No matter how big or small. Let's recognize the successes, triumphs, and tribulations we've encountered throughout the year. The festivities of this time of the year are perfect for this. When the end of the working year coincides with a celebratory and reflective season.
You won't be doing yourself (or your loved ones) any favors entering the new year overworked and stressed. So don't feel guilty for taking little breaks along the way. In fact, feeling recharged and rejuvenated is crucial to the success of your enterprise. 
Celebrating your business every sip of the way
So, in the season's true spirit, let's talk about spirits. In the cocktail sense of the word rather than the paranormal one.
The wonderful world of cocktails produces a bevy of classic beverages. With enough variety to satisfy even the staunchest critic.
Everyone has their own personal favorite. Cocktails are true all-rounder drinks that can be enjoyed for any number of occasions.
A complimentary amalgamation of spirits and fresh fruit juices expertly garnished by an artistic professional.
As an entrepreneur, have you ever thought about how a particular cocktail could be celebrated as a milestone event in your business?
Let's do just that.
10 business-themed cocktails to enjoy this year
Here are our ten favorite business-themed cocktails, each with an accompanying milestone to celebrate. But do you really need a reason?
We'll give the basic ingredients for each one without exact measurements and methods of preparation. (It avoids being ripped to shreds by professional cocktail bartenders worldwide!) 
ScofFLAWLESS Deal
The Scofflaw. It's 1920's America. Prohibition times. The ban on booze. Drinkers disregard the law and convene in underground taverns. A secret knock gains you entry. A smoky environment to enjoy your favorite bootlegged tipple.
In crowded speakeasies across the country, drinkers thumbed their noses at the law. A term was coined for them – Scofflaws. They were those disreputable rascals who ignored Prohibition's ban on drinking. A Paris bartender drew inspiration from this and decided to create a cocktail in their honor.
 The Scofflaw Rye whiskey, dry vermouth, lime, grenadine, and orange bitters.
How to celebrate the business deal with a Scofflaw? Sitting and enjoying it with your lawyer would be an excellent start. Unfortunately, the cocktail's name derived from those that rejected the law, so extra due diligence is needed here.
Due diligence applies to any entrepreneurial scenario. Whether acquiring a company or considering angel investment in a venture, it's always best practice to take that deep informational dive.
A solid knowledge of what you're getting involved in – or with- will help prepare you for that inevitable situation when something unexpected pops up. The crazy world of entrepreneurship has so many unforeseen variants—an ever-evolving and constantly shifting landscape. As a result, decisions and actions can have ripple effects that benefit or hamper your efforts.
Practicing professional due diligence in every aspect of your business will turn that scofflaw into the scofflawless. A flawless endeavor where you can sit back, sip your business-themed cocktails, and celebrate your win.
Safe in the knowledge that you've prepared your business as well as possible for any unforeseen events.
PaperLESS Airplane
In today's business environment, sustainability is critical. Green is the new black. Entrepreneurs are more socially conscious than ever.
The days when corporations greedily gobbled up fossil fuels to propel their innovations are over. There is a real emphasis on the preservation of the planet now. 
You can see it in supply chains worldwide in the widest range of industries. From environmentally friendly building supplies and clean energy to recycled plastic for clothing and sustainable cotton.
Considering this movement, we gave the Paper airplane cocktail an environmentally appropriate twist, naming it the Paperless Airplane.
The cocktail itself– amaro (preferably nonino), Aperol, bourbon, fresh lemon juice, was created by a bartender in a New York City cocktail bar. Somewhere I'm a little familiar with. The city, not the cocktail bar.
Yeah, okay, the city and the cocktail bar.
In 2007 he came up with it while listening to a popular song of the same name.
You can enjoy the Paperless Airplane guilt-free, as it has environmental consciousness practically displayed on its glass. It's symbolic of your entrepreneurial efforts to create sustainability.
You educate others by making green decisions in the application or delivery of your product or service. As a result, you are encouraging a more sustained existence with your business and encouraging fellow entrepreneurs to follow suit. And that's not a bad thing.
So go ahead this festive season, and celebrate your eco-business by flying the paperless airplane.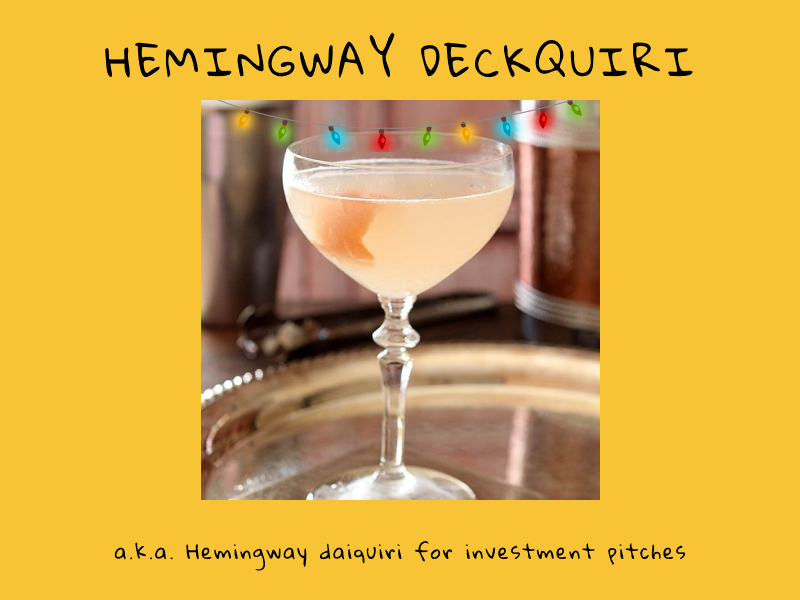 Hemingway DECKquiri
Need funding? Enter the Hemingway daiquiri, or rather the Deckquiri. The perfect cocktail to complement your investment pitch deck. This would be advisable to enjoy following your investment presentation to potential investors for obvious reasons.
 The daiquiri was named after the famous writer who embraced cocktail culture worldwide. However, the legend was born at the El Floridita bar in Havana, Cuba. The drink, not the writer.
Whether the cocktail consisting of white rum, maraschino liqueur, lime juice, and grapefruit juice stirred up his creative process is up for debate. What is known is that he was an enthusiastic supporter of them.
If you, as the entrepreneur, have finely tuned your pitch deck and it is concise, informative, and enticing, it could be a tantalizing proposition for investors. It should convince investors that your company has enormous growth potential and you just need their investment for the required resources to scale.
Congratulations on your pitch deck! Now enjoy the fruits of your labor. Just don't imbibe as many as ol' Ernest did.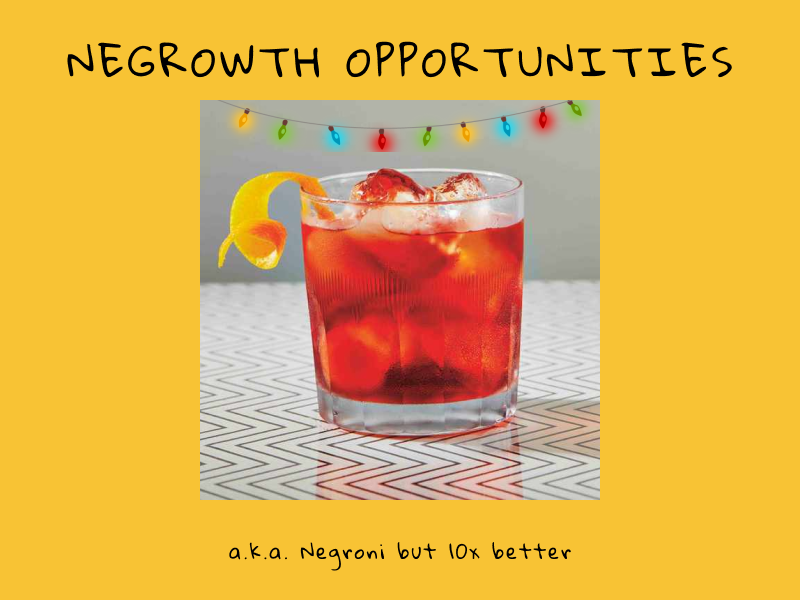 NeGROWTH Opportunities 
How about an Italian cocktail that offers a 10x boost? A Negroni that keeps on growing. Fantastical and farfetched? Let's place the cocktail in a business setting with NeGrowth Opportunities.
You're having a business dinner in a fine Italian restaurant with a potential client and suggest the classic cocktail as an aperitif before the meal. A Negroni – gin, vermouth Rosso, Campari, with orange peel garnish, offers a sophisticated segue to your business discussion. Your client's business can gain a 10x revenue boost; it just needs a directional marketing plan that fits their needs—tailored, concise and actionable. Not through a high-priced agency that sees the latest video-based marketing platform and says – do that.
With Negroni in hand, you've analyzed a client's growth opportunities and laid out how their data can reveal those actionable insights they may have missed.  You've given them a step-by-step marketing playbook in bite-sized chunks. And all before dinner arrives.
Growth opportunities for business exist everywhere. They just have to be strategically uncovered.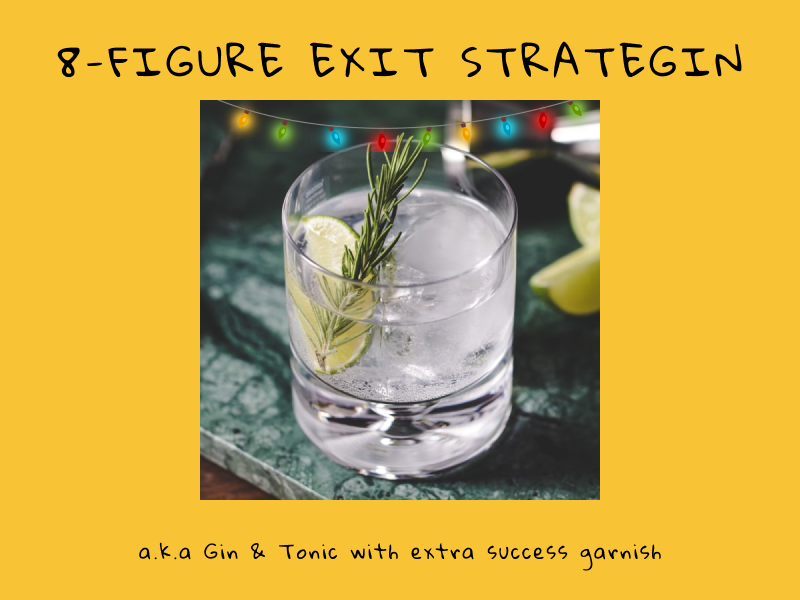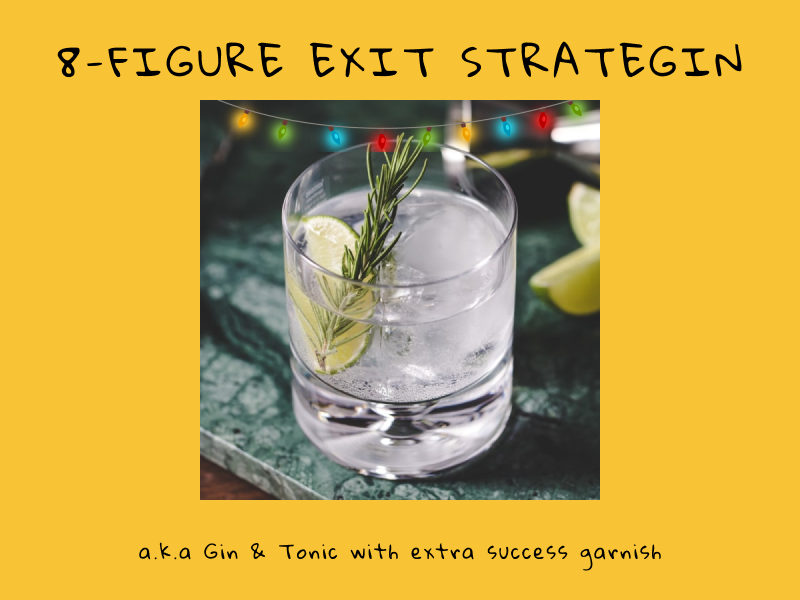 8-Figure Exit StrateGIN
Gin and tonic. G&T.
3 or the rule of 3, may be considered the magic number in life, but in the entrepreneurial world, it's eight.
Many entrepreneurs create their companies in their quest for the 8 – figure exit. What better cocktail to strategize and plan an 8 -figure exit than with a G&T. Or its business counterpart –
The 8-Figure Exit Strategin. A classic gin and tonic garnished with some extra success. A simple and refreshing cocktail.
When planning the scalability of a business toward its exit strategy, a simple yet sophisticated and refreshing outlook can be a good mindset to have.
Our guests this year on Beyond 8 Figures podcast have shown us it can be done. So yes, it's a quest, but it certainly doesn't have to be mythical.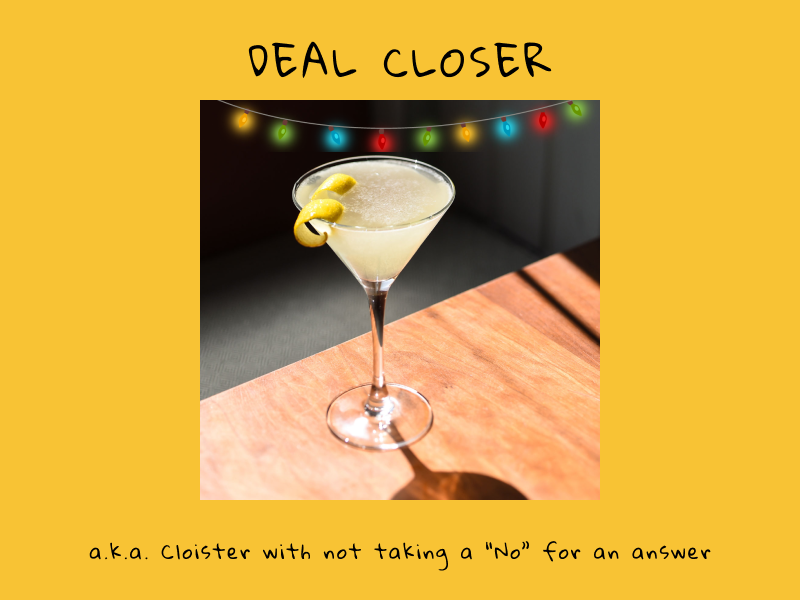 DEAL Closer 
The Cloister cocktail is a delicious drink made with gin, orange juice, and cherry brandy. It's one of the most popular cocktails in the world, and it always goes down smoothly. But our DEAL Closer cocktail is for the determined entrepreneurs who bring it home!
Enough talking and beating around the bush – close that deal, and let's celebrate with a nice drink.
The Cloister cocktail comes together quickly and easily with just a few ingredients. Pick a gin of choice. Pour it over ice and add in some orange juice for a bit of citrus flavor. Next, add in a splash of cherry brandy for that sweet touch that goes so well with an afternoon toast. Give everything a good stir and pour it into your favorite glass – as easy as making a new sale for your business!
Whether you prefer to enjoy yours on its own or with some friends, there's no denying that the Cloister is the perfect way to celebrate your hard work.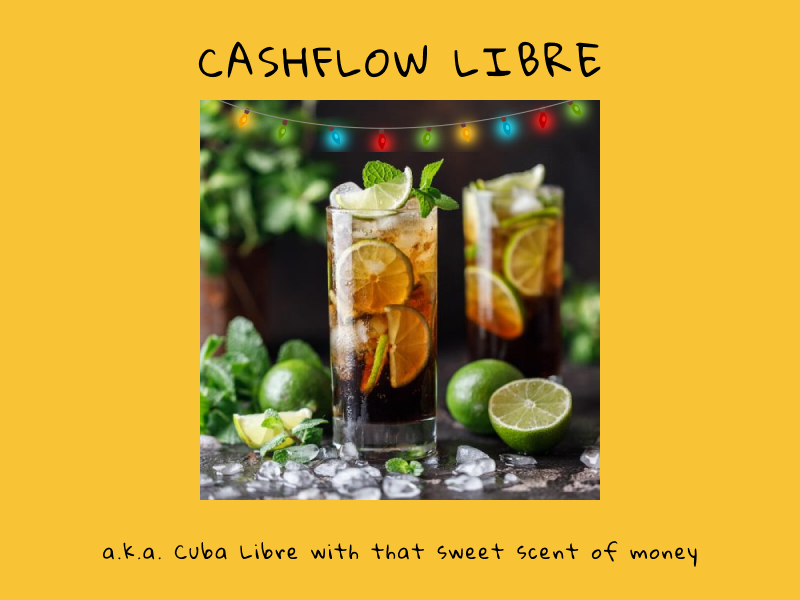 CASHFLOW Libre
Ah, free cash flow. The sweet sound of money left after the business paid for all operational expenses. What's not to like? Having enough free cash flow – where it's much higher than the amount needed to run operations – can mean you're in a very good position.
And there is no more appropriate cocktail to celebrate a good year of business than classic Cuba Libre (or as we call it – CASH FLOW Libre). No fancy ingredients, no crazy mixology skills are required. Just good old rum, cola, and a lime wedge to garnish.
This cocktail is a shining example of the simple pleasures in life. And with free cash flow as high as ours this year, we're definitely going to be enjoying many Cuba Libre cocktails to celebrate our success!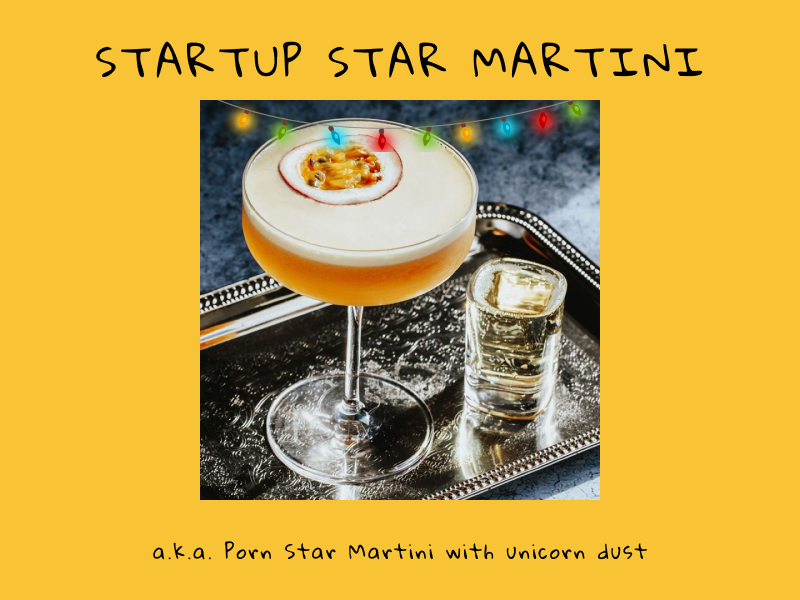 STARTUP Star Martini
Are you a startup founder? Is Y Combinator after you? Did Andreessen Horowitz (a16z) back you up this year? Well, you might deserve a STARTUP STAR Martini (also known as Porn Star Martini)!
This cocktail is a delicious blend of vanilla-flavored vodka, Passoã (a passion fruit-flavored liqueur), passion fruit juice, and lime juice. It is typically served in an oversized martini glass, with a chilled shot glass of prosecco alongside it.
The STARTUP STAR Martini is the perfect drink for any startup founder looking to celebrate their success and show off their entrepreneurial flair. Give it a try next time you're out with friends, at a startup event, or enjoying some downtime after working hard on your latest venture!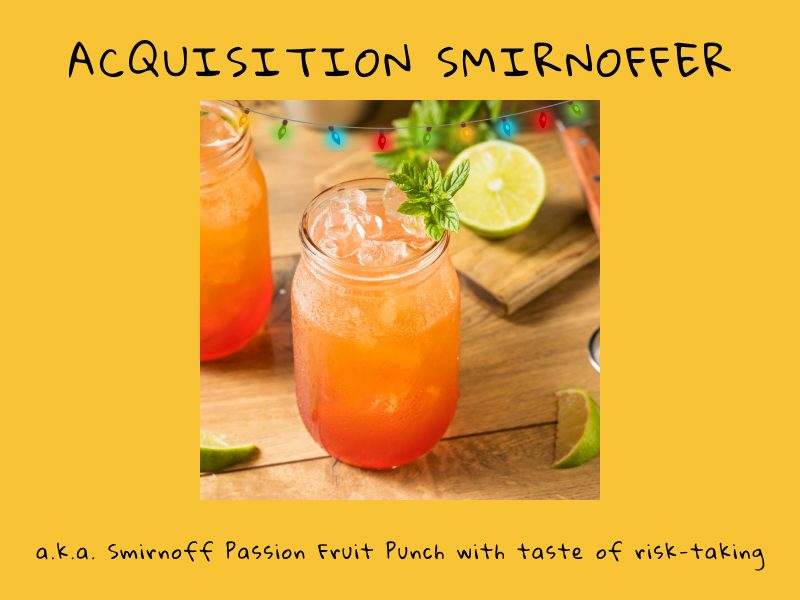 ACQUISITION SmirnOFFER
Whether you are acquiring a business or received an offer for your company, it's not a matter to handle lightly. Any business transaction requires informed decision-making, clear motivations, and planning ahead. So our next cocktail is not for the fainthearted.
ACQUISITION SmirnOFFER (also known as Smirnoff Passion Fruit Punch) is a cocktail with a bold statement. It is an acquired taste and involves risk-taking, but its reward is the sweet flavor of success and achievement.
To make this cocktail, you will need to gather the following ingredients: 1 1/2 ounces of Smirnoff Passion Fruit Vodka, a splash of cranberry juice, a splash of pineapple juice, a splash of grapefruit juice, 2 dashes bitters, and a splash of lemon-lime soda.
Then, simply build it in a Collins glass over ice and top it with lemon-lime soda. Garnish with a slice of pineapple, an orange slice, and a cherry to complete the bold look.
Don't let the fruity taste fool you – it is a powerful cocktail that can help you celebrate your business goals. Whether you want to acquire or be acquired, this drink will surely get you in the right mindset for success. Cheers!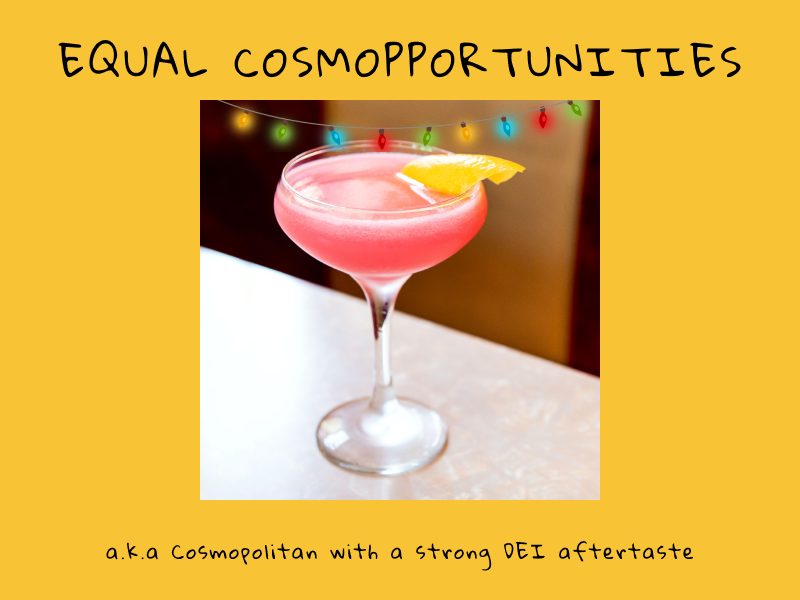 EQUAL CosmOPPORTUNITIES
We said it before, and we'll say it again: at Beyond 8 Figures, we believe in sharing the voices of entrepreneurs from different backgrounds, countries, industries, etc. Though we think that your gender, skin tone, upbringing, or anything else should affect your role as an entrepreneur, we recognize how uneven the opportunities in business are for many underrepresented groups.
So our final cocktail is a reminder for everyone that we can change that together. EQUAL CosmOPPORTUNITIES is a drink that gives everyone a sit at the table and celebrates the diversity among entrepreneurs. It comes from the simple and well-known Cosmopolitan that won its place in our hearts thanks to its sweet-and-sour taste and the fact that it's easy to make. And it tastes even better when shared.
Take equal parts cranberry juice and vodka (or your preferred type of alcohol if you want to add a personal touch), mix it with lime juice and sugar syrup in an ice-filled cocktail shaker (or even just by shaking it over ice), and pour into a glass. As easy as supporting other entrepreneurs!
What a year it's been!
As we enter the festive season, we wanted to take a moment to personally thank our incredible listeners and every guest who appeared on the Beyond 8 Figures podcast.
We have thoroughly enjoyed the experience this year and learned a great deal. It has been a fascinating journey: listening to all the entrepreneurs who have sat in the front seat of the roller-coaster and gone on these incredible journeys. It's never straightforward! How else do we learn in our businesses, though? Roadblocks and failures have to be looked at through the prism of eventual success. We must keep moving forward, embracing growth opportunities, and avoiding stagnation. 
Even incremental gains must be celebrated. It may seem like progress is crawling at a snail's pace, but most importantly, it is still moving forward. So be in that appreciative moment. As the small wins all eventually lead to that bigger overall goal.
We hope you all have a happy festive season with your loved ones and a wonderful New Year.