Unlock Your Full Business Potential With Jasper AI
As an entrepreneur and business owner, you're always looking for ways to improve your efficiency, unlock your full business potential, and stay ahead in the competitive market. But it's not always easy. That's where artificial intelligence tools like Jasper AI jump in to help you.
Tools like Jasper AI offer enormous benefits and countless opportunities for your business. So, let's have a look at its features, pricing, and how it can help you boost your business.
What is Jasper AI and How Does it Work?
Jasper AI is an artificial intelligence tool that helps you easily and quickly create original content for your business. It's very user-friendly and simple to use. You only need to give it a simple prompt, and Jasper AI will produce top-notch content for your brand across various formats, such as blog articles, product descriptions, marketing materials, and beyond.
In addition, it takes the stress out of the writing process as it serves as a powerful whitepaper creation tool. Instead of starting out with a blank page, you (or your writing team) can start with a wide range of generated content based on detailed research and accurate information from all around the web.
Simply put, Jasper AI harnesses the power of artificial intelligence and machine learning to generate human-like text for various purposes.
When it comes to pricing, Jasper AI offers a range of pricing options designed to accommodate different budgets and needs. If you decide to go for yearly billing (which is the most cost-effective option), these are the three available pricing plans:
Creator Plan (Cheapest)

– Jasper AI Creator Plan is the most affordable option. For $39 / Month, you get 30,000 words per month, 50+ templates, a brand voice option, and much more (see details below);

Teams Plan (Most Popular)

– Teams Plan costs $99 / Month, and it's most popular among small business owners looking to collaborate with their team on marketing projects. It includes 60,000 words per month, but more importantly, there are more seats available for the entire team;

Business Plan (Custom Package)

– This plan is perfect for organizations needing a personalized solution with advanced features, such as custom branding and the option for API integration.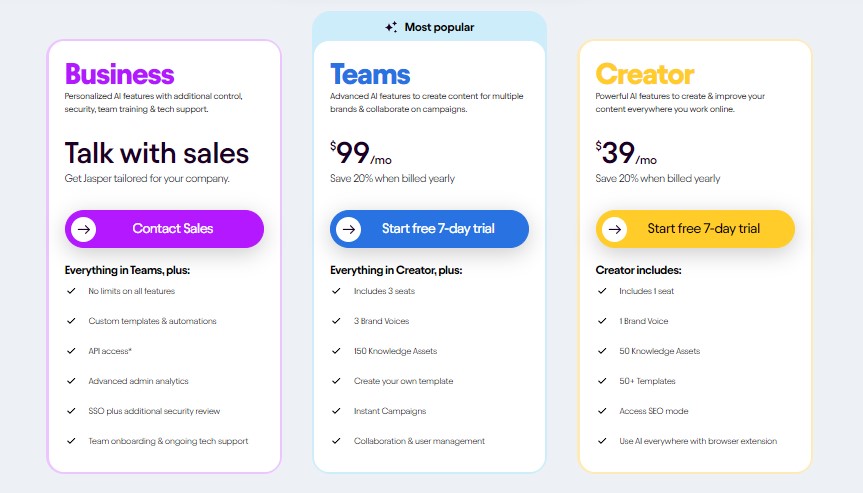 Jasper AI Features
Jasper AI offers a range of powerful features that can empower your business in countless ways. They can help you create compelling and high-quality content effortlessly and in no time. Here are some key features for entrepreneurs and business owners:
Content generation

Brand voice

Document editor

Rephrase tool

Browser extension

SEO mode

Recipes (pre-built workflows)

Plagiarism checker

Grammarly integration

Pre-made templates
How Can Jasper AI Support Your Business Growth
Jasper AI can be a game-changer for your business growth, helping you create content more efficiently, boosting productivity, and ensuring your marketing materials shine with quality and consistency across the board. Here are the main benefits of Jasper AI for businesses.
Jasper AI saves time
Jasper AI is, above all, a time-saving tool because it can save your business a significant amount of time by automating the content creation process. Instead of spending hours writing content like blog posts and marketing copy, Jasper AI can do it for you quickly and efficiently. This means you and your team can focus on more important things, such as making creative decisions and growing the company. By automating content creation, Jasper AI makes your life easier and helps you use your time more wisely (and we all know that time is of the essence when you're running a business).
It improves writing efficiency
Writing is a complex process that involves meticulous research, choosing the right words that resonate with your target audience, and ensuring you effectively convey your message to them. However, such tasks demand a lot of patience, time, and effort. That's where Jasper AI jumps into the rescue. This revolutionary tool is a game-changer for your business because it significantly improves writing efficiency and streamlines the process in many ways. It can instantly produce original content to suit your business needs, proofread and edit text with impeccable quality, and adapt to various writing styles and voices. 
It helps create high-quality content
Jasper AI requires minimal input to produce maximum quality. That's by far one of its biggest benefits – its ability to create high-quality content for various business and marketing purposes without the usual hassle. Jasper AI not only helps create creative and well-structured content, but it also ensures impeccable grammar and consistent style. You can use it to produce catchy headlines, Google ads copy, landing page copy, intro paragraphs, etc., which are all indispensable for your business growth but often too time-consuming. But that's where Jasper AI can help support your organization and make content creation easier for you without sacrificing quality or accuracy.
It helps optimize your content for search
Another way Jasper AI helps support your business growth is through content optimization. Using Jasper, you can incorporate your target keywords naturally in your content and effortlessly produce fully optimized blog posts within minutes. The keywords are used in a logical manner that adds value to the reader and ensures your content is optimized for search engines. In addition, the platform provides a wide selection of templates organized by their specific use cases, allowing you to quickly fill in content details and have a ready-to-use piece for your blog. To make things even better, you don't have to stress about plagiarism or stuffed keywords, as Jasper AI features guarantee original content every time.
Use Jasper AI to Unlock Business Success
Jasper AI is truly a groundbreaking tool that empowers business owners and entrepreneurs in today's competitive digital landscape. It simplifies content distribution, optimizes texts for search engines, ensures quality, takes the hassle out of content creation, and saves significant time and resources. That said, Jasper AI is more than just a handy marketing tool; it's a strategic partner that can help you unlock full business potential and take your company to another level. With Jasper on your side, you can focus on your area of expertise and what truly matters, and that's growing your business. So, go give it a try and boost your business with Jasper AI.